Supporter Packs June
To ensure transparency and clarity, we wanted to share some important details about our Supporter Packs:
Counting Donations: All donations made from June 7, 2023, will be taken into account for Supporter Packs.
Visual Only: The items in these Supporter Packs are solely for visual enhancement. They add flair to your character, but they don't carry any stat advantages.
Redemption: Once you've made a qualifying donation, you can redeem your Supporter Pack upon logging in. You'll see a prompt to do so.
Stacking Donations: The great thing is, donations accumulate! This means you can unlock all Supporter Packs by making a total donation of $500. The best part is, you don't need to donate all at once. Your donations over the month will be counted towards the total, giving you the flexibility to contribute as you see fit.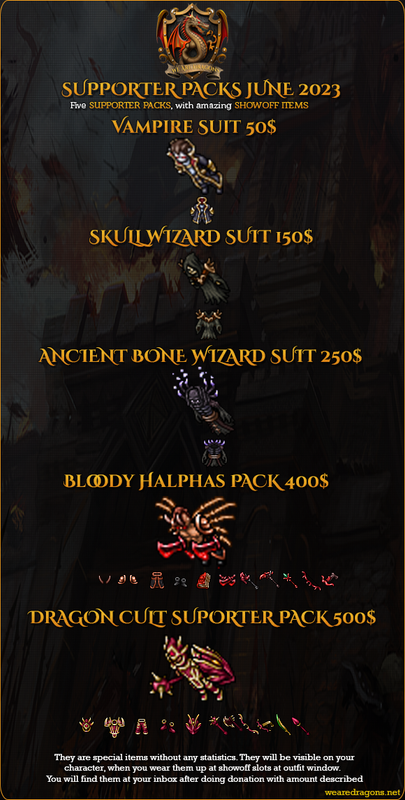 Remember, your support goes a long way in helping us continue improving the game and delivering quality content for you to enjoy!
Thank you for your support, and happy gaming!
07 Jun 2023
Joker Raids
We have some exciting news! Joker Raids will now be automated!
There is a minimum requirement of 25 players in the desert to trigger the raid. If the requirement isn't met, the raid won't start.
Mark your calendars for the new Joker Raid days:
Wednesdays at 18:00 CET 13:00 GMT-3 (Sao Paulo)
Fridays at 18:00 CET 13:00 GMT-3 (Sao Paulo)
Sundays at 18:00 CET 13:00 GMT-3 (Sao Paulo)
For those of you who are new to the game, Joker Raids is a raid where you have the chance to loot WAD coins (premium points), present boxes and gem boxes with valuable rewards. These rewards include enchanting box gems, and gem boxes which can be exchanged for more enchanting boxes with Archmage Khadrys.
Additionally, there will be first automatic raid today - 18:00 CET
See you in the desert!

03 Jun 2023
Pyromancer Dungeon - Dragon Fall
In the world of Scatha, the perilous Pyromancer Dungeon emerges, with fire creatures threatening Dragon Fall. Within the dungeon, two types of monsters reside: the Pyrogeist, vengeful spirits wreathed in ghostly flames, and the Blazeflame Elementals, living conflagrations of searing fire.
At the dungeon's heart, the Flamebound Berserker, once a brave warrior consumed by unholy fire, now seeks chaos. Brave adventurers must unite, face the fiery hordes, and challenge the Flamebound Berserker to save Dragon Fall. Skill, equipment, and strategy are essential to overcome these formidable foes and restore peace to the realm.
The fires of Pyromancer Dungeon are relentless, testing only the most resourceful adventurers. The fate of Dragon Fall rests upon those who dare to enter the fiery abyss.


25 May 2023
Water Dungeon - Dragon Fall
In the realm of the Scatha, a new area has emerged near Dragon Fall Town: the treacherous Water Dungeon Cave. It poses a grave threat to the inhabitants, as dangerous water creatures have taken residence within.
The cave is inhabited by Water Cave Ogres, towering and formidable beings with aquatic abilities. Alongside them are Water Cave Ogre Mages, skilled in water magic, and Water Cave Ogre Warriors, clad in sturdy armor and wielding tridents.
As adventurers delve deeper, they encounter Water Towers, ancient structures with water-based attacks. At the heart of the dungeon lies the ultimate challenge: the Ancient Water Ogre. This colossal entity, master of water manipulation, has ruled the depths for eons.
To safeguard Dragon Fall, heroes must conquer the water monsters, navigate the Water Towers, and face the Ancient Water Ogre. United in purpose, they stand a chance against these formidable foes.
Gather your allies, don your armor, and embark on a perilous journey into the Water Dungeon Cave. Victory and glory await those who dare to face these watery terrors.

25 May 2023
Changelog #1
We've got some great news for our solo warriors out there!
From now on, you can get Double Monster Points for all monsters in the game!This was previously applicable only for endgame monsters like Tentacles or Urtrudurks, but we've extended it to every monster in the game.
Here are the requirements for you to receive the double count:
1) You must deal 100% damage to the monster.
2) You cannot be in a party.
Changelog
-Added all Castle Raids teleports to Dragon Fall depot
-Fixed Highlighted Monster system 25% exp boost
-Fixed Dragon Dungeon doors
-Corrected price of Great Mana Fluids 350 gp -> 280 gp
-Limited training wands usage up to magic level 80
-Added possibility to sell Scarab Coins at NPC Lady Lina (+1 depot Dragon Fall)
-Added possibility to sell items with Rarity to all NPCs
-Fixed training wands charges issue
-Added new spell - Adura Vita Dec which conjures 10x more runes than standard Adura Vita (1000 mana cost)
-Fixed some of map glitches at Dragon Fall
22 May 2023
Pre-Release Supporter Packs
We are thrilled to introduce our unique set of 6 Supporter Packs with exclusive showoff sets. This is an incredible opportunity for those who wish to support the remarkable work we do at We Are Dragons.
These packages boast extraordinary items that hold no specific statistics but grant you an exclusive and distinctive look within the game world. This is your chance to stand out amongst the crowd and truly showcase your passion and support for our project.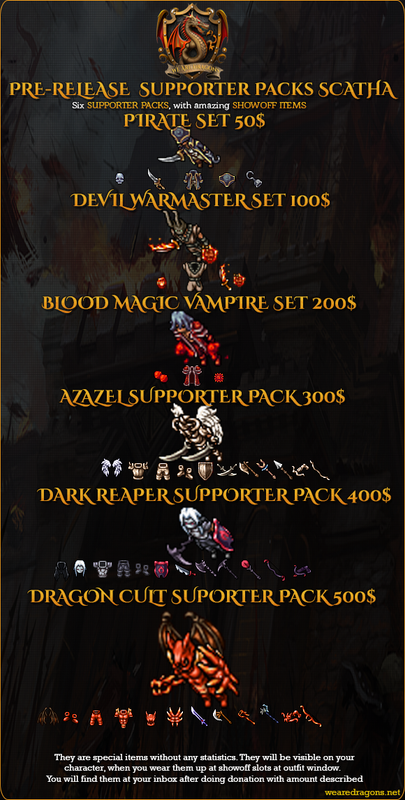 These sets are a testament to your contribution and dedication to our community. We are deeply thankful for your continuous support and are excited to see you flaunting these fantastic new looks in the game.
Remember, this is a limited-time offer. Don't miss out on this exclusive opportunity to show off your support and style. Stay tuned for more updates!
17 May 2023
Scatha Launch 19.05.2023
Greetings, adventurers of We Are Dragons!

We are thrilled to announce the launch of a new world on 19.05.2023, featuring numerous improvements and upgrades based on your valuable feedback:

SHOP - Gem Boxes F2P:

We Are Dragons decision to remove all crafting boxes from their store, except for the crystal box with hp/mp/enchant/speed gems, came after much feedback from the community. This move aims to give free-to-play (F2P) players more opportunities to compete against pay-to-win (P2W) players.

By making all other gem boxes grindable, We Are Dragons is promoting a more inclusive and fair gameplay environment. This move may encourage players who were previously discouraged from playing the game to give it another chance. With the removal of crafting boxes and the shift to grindable gem boxes, We Are Dragons is making sure that all players have an equal chance to succeed in the game.

From now on, all gem boxes can be obtained by grinding in-game through:

-daily quests

-monsters

-demonic system

-tasks

-golden tokens

-events



New Relic Slot:

New inventory slot - relic that will provide players with additional bonuses. This new slot can be upgraded by using gems and every relic item will have a base loot boost and experience boost. The introduction of this new slot is an exciting development for players who are looking for more ways to enhance their gameplay experience.

-10 Unique Relic items with loot/experience bonuses.



Attack Speed:

The biggest change in We Are Dragons is the doubling of the base attack speed. This change will have a significant impact on the gameplay experience, especially for new players. With the increased base attack speed, players will be able to enjoy faster and more dynamic combat right from the beginning of the game.

The faster attack speed will also make it easier for players to complete quests and level up quickly. This change is a testament to We Are Dragons commitment to providing a fun and enjoyable gaming experience for all players.

Sources of attack speed:

-Promotion +2%

-Grand Promotion +2.5%

-Ancient Promotion +2%

-Hermes gems +5%

-Weapons up to 10%

-Reborn tee 2.5%

-Legendary weapon tier +6%

There will be a total of 30% attack speed obtainable in-game, which will increase from 2 attacks per turn to 5 attacks per turn.

Overall, the doubling of the base attack speed is a game-changer for We Are Dragons. This change will provide a more enjoyable and dynamic combat experience for players of all levels, from new players to experienced veterans. With this change, We Are Dragons is continuing to evolve and improve, making it an even more exciting game to play.

Paperdoll showoff customization:

We Are Dragons has implemented a complete palette of colours that players can use to customize their helmets, armor, legs, boots, and wings items. This new feature allows players to personalize their character's appearance in a whole new way.

With hundreds of custom items available in the game, the possibilities for customization are endless. Players can experiment with different combinations of colors and items to create a truly unique look for their character. This feature adds a new layer of depth to the game, allowing players to express their individuality in a creative and fun way.
We have made numerous changes and improvements to the game, and a complete changelog will be released within the next few days. These changes are the result of extensive testing and feedback from the community, and we aim to provide players with the best possible gaming experience.

Stay tuned!
06 May 2023