Worlds Merge
We are glad to announce, that WeAreDragons Season I World has been successfully merged with WeAreDragons Global World.

Congratulations to the participants and winners, you will find the reward at inbox after next server save ( 1st place ) and the points on your balance.
Some technical details about merge :
Merged:
201 accounts
273 players
6547 items
-If your account number is not working - that means there was already the same account number on Global world and there is added 0 at begining of your account number. For example your account number was 105105 -> your new account number is 0105105.
If your character name already existed on global world, there is added a or x letter at the end of the name.
-If you have had an house - you will find all your items from house at inbox chest
-You will not lose any items/skills/progress during the merge
21 Feb 2021
Happy Valentine's Day!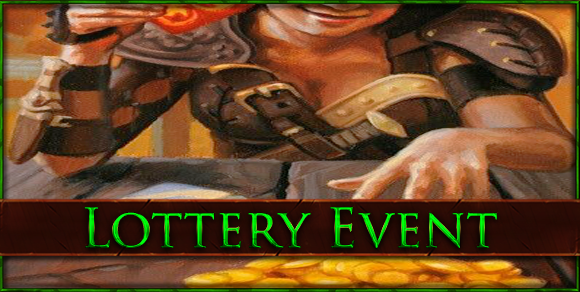 Lottery will be rolling every 30 minutes instead of 10 hours, which means every 30 minutes, 1 random online player with atleast 70 level will receive one of :
-Mysterious Box
-Crystal Box
-Bloody Box
-Hermes Box
-Wizard Box
Event time
From 14.02.2021 12:00 CET till server save at 15.02.2021 12:00 CET
14 Feb 2021
Season Server Start !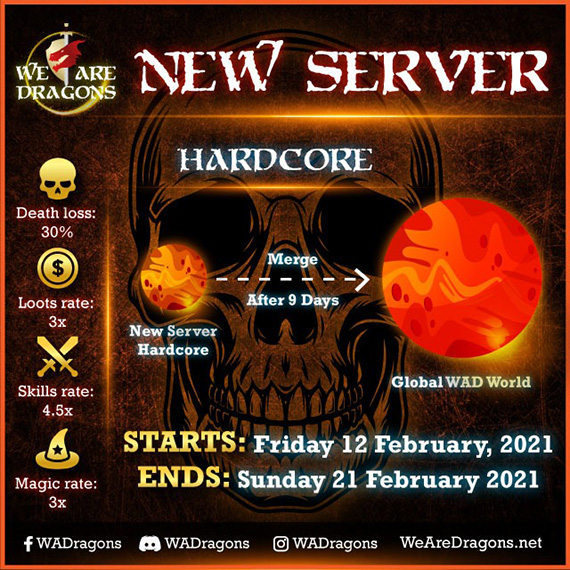 11 Feb 2021
Game / Client Update
Client Update
-All of your backpacks will remain opened after relog
-Added possibility to add buy offers with amount
-Season server has been added to server list
-Ability to setup Pet Spells at hotkeys
-Added loot-lists to auto-loot feature
Means you will be able to create and save separate loot lists for different hunting zones, instead of setting up new list from scratch each time you change hunting zone.
Game Changes
-Doors to Joridue will require level 200, instead of reborn
Store changes :
*Pet food
Small Mood Bread 15% -> 20% 3 points -> 2 points
Medium Mood Ham 25% -> 30% 5 points -> 3 points
Big Mood Ham 35% -> 40% 7 points -> 4 points
Ultimate Mood Potion 50% -> 60% 9 points -> 5 points
New scrolls has been added :
-3 Types of Capacity Scrolls :
*50/100/150 cap per use ( mages )
*150/200/250 cap per use ( paladins )
*200/250/350 cap per use ( knights )
You can use them up to 10 times on your character. Each scroll adds permanently additional cap to your character.

To keep your client settings / map, make sure to copy whole config directory from old client to new client. Both of client's have to be closed during that process
09 Feb 2021
Dragon Cults
Preview of the upcoming release.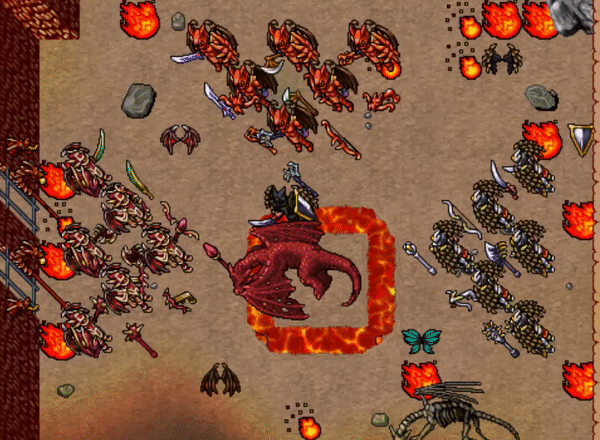 06 Feb 2021
Ultimate Spells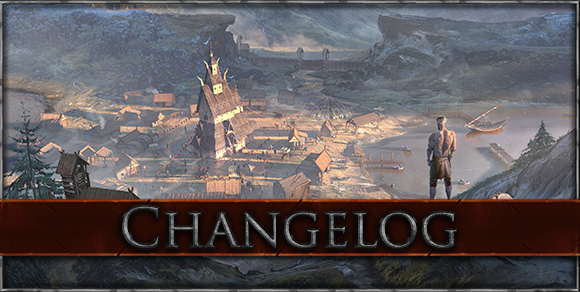 Ultimate Spells
Ultimate spells are obtainable at Ultimate Spells Teacher NPC at Reborn Castle. Unlocking Ultimate Spell is available for Grand vocations with level 65+. The cost of unlocking Ultimate Spell is equal to 100 RTP(Reborn Tree Points).

Knight ULTIMATE spell
Name: The prison
Level: 65+ Grand Knight
Magic level: 5
Spell: Exeta In
Cost: 500 HP + 250 MP
Cooldown/exhaust: 3 minutes
Description: It traps everyone inside the ground circle for 2.5s.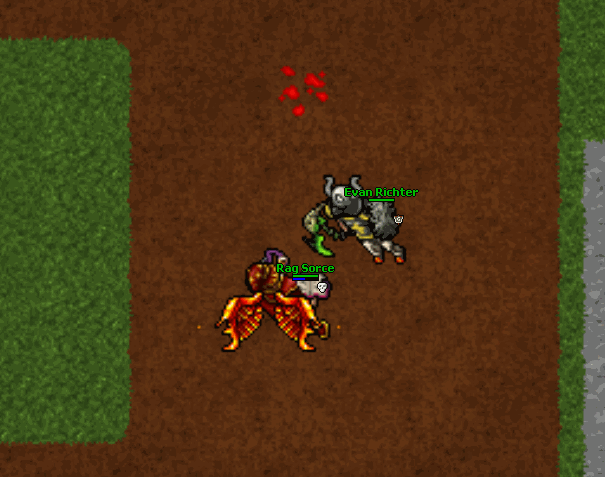 Sorcerer ULTIMATE spell

Name: Final Spark
Level: 65+ Grand Sorcerer
Magic level: 45
Spell: Exevo Lux
Cost: 1500 MP
Type: Energy damage
Cooldown/exhuast: 3 minutes
Damage: 100% stronger than Death Wave spell
Description: A powerful beam that deal true damage. When the spell is casted damage isn't instant! it has a 1s delay, with animation, to let people avoid the beam.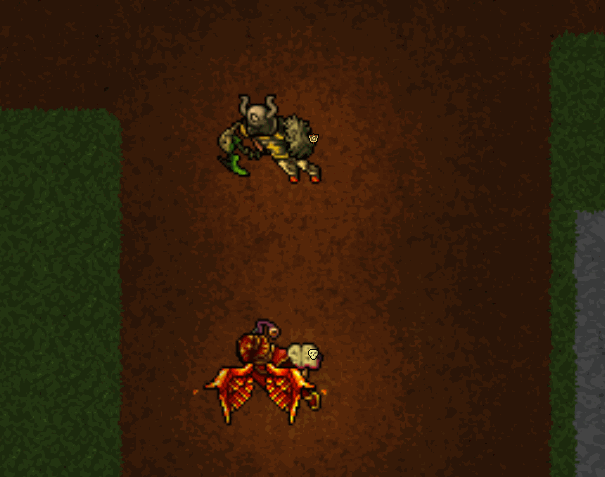 Paladin ULTIMATE spell

Name: The Sharped Arrow
Level: 65 + Grand Paladin
Magic level: 15
Spell: Utana Vid Max
Cost: 500 MP
Cooldown/exhuast: 3 minutes
Description: When casted it makes you fully invisible and granting you strong haste. It lasts 3 seconds.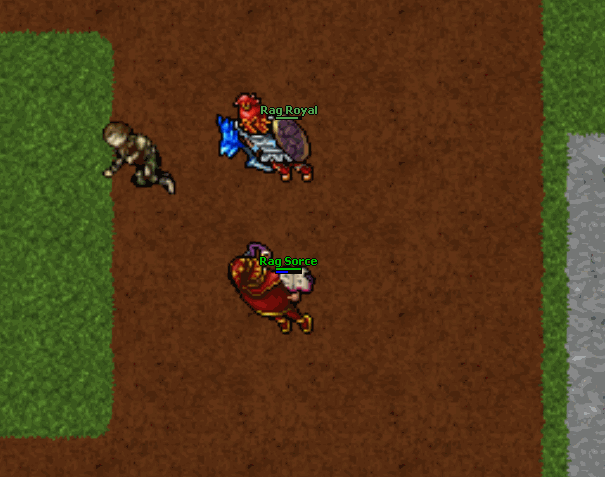 Druid ULTIMATE spell

Name: Salvation
Level: 65 + Grand Druid
Magic level: 40
Spell: Exura Life "nick
Cost: 1000 MP
Cooldown/exhuast: 3 minutes
Description: Cast a green aura to the target, while target has green aura, its immune for everything. It lasts 3 seconds.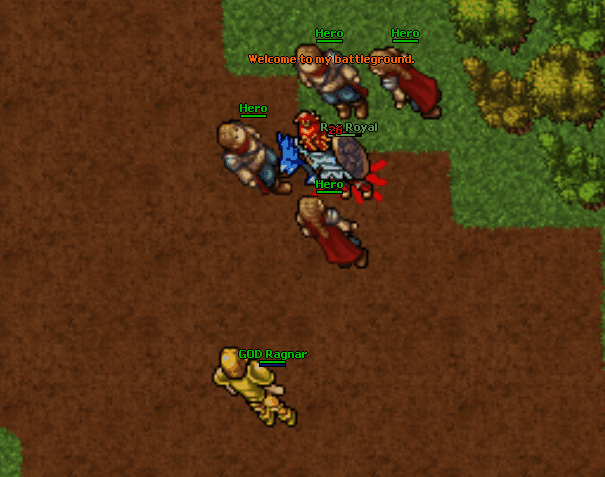 01 Feb 2021
Diamond Island Event
The weekly Diamond Island event this time will be special and unique !
Event time - 22:00 CET
During today Diamond Island Event, everyone who will survive to the end, except the main reward of silver tokens, will obtain also Present Box and Mysterious Card.
More info about Diamond Island Event can be found here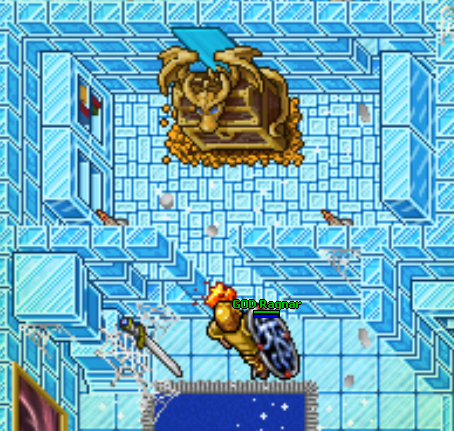 Required level 50+
MC is not allowed during the event, if anyone will be catched up mcing it will result in main account banishment.
31 Jan 2021
Characters Auctions
26 Jan 2021
Changelog #1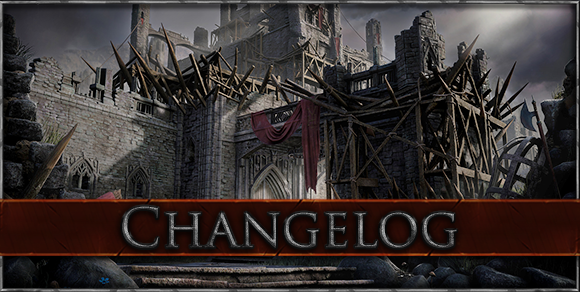 -Fixed stacking issue
-Fixed issue of looting item while the container (backpack ) is full
-Fixed issue of items not stacking sometimes
-Exchanged Bank NPC in every town to Gheed NPC
-Replaced rope spot to ramp at Darashia White Dragons passage
-Fixed visual bug showing all elemental protections on armor at market while armor had only physical protection
-Fixed issue with pet exp bonus while being in party
-Fixed SSA taking charges on other elements than death/physical
-Decreased Key Ring crafting price 400 silver / 200 golden -> 40 silver -> 20 golden tokens
-Decreased Unlock Potential crafting price 2000 golden tokens / 1000 silver tokens -> 200 golden tokens, 100 silver tokens
-Reduced the deathloss to base 9%
-Slightly nerfed damage of Skeleton Warriors, Mages, Archers
-Diamond outfit +50hp/+50mana/+6 distance skill
-Devil outfit from RR6 +80hp/+50mana/+5 melee skills
-Updated description of outfit scroll from RR6
-Fixed loot channel in party
-Fixed wrong visual attributes of items at character auctions
-Fixed charges of Frost Dagger and Icy Sword
-Pets will receive proper experience including party vocations shared boosts
-Added Wyrms task
-Added Mercenaries task
-Replaced rewards for exploring Bestiary :
*Crafter Boxes -> Present Boxes
Map fixes :
-Added emergency exit at Grudul The Cruel
-Added emergency exit at Ancient Dwarf
-Fixed not reachable sqms - passage at Frostwings Nivalis
-Fixed invisible tar sqm at Undead Hydras
26 Jan 2021
Client Update

-Auto updater launcher has been released at download section
-Client with new layout has been released at download section
-Reconnect button has been added at character selection
-Fixed drawing graphics errors
-Increased auto-loot slots up to 10 for Golden Account players
21 Jan 2021
We Are Dragons Launch !
Hello fellow Warriors!
Welcome to the NEW WAT Server: We Are Dragons!
Experience incredible new features and prove your worth among your peers. We Are Dragons is full of new adventures and challenges, we are waiting for you. Welcome to the Future of 2d RPG games.
Server details click here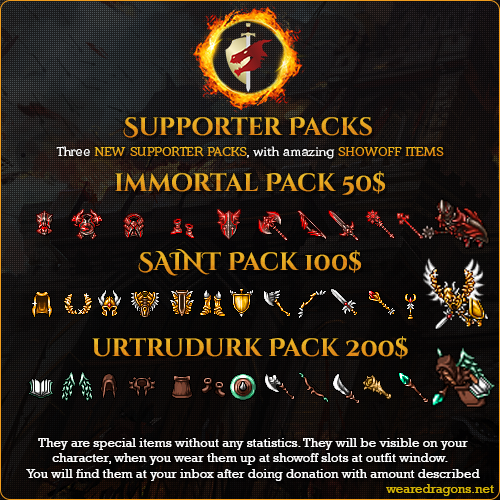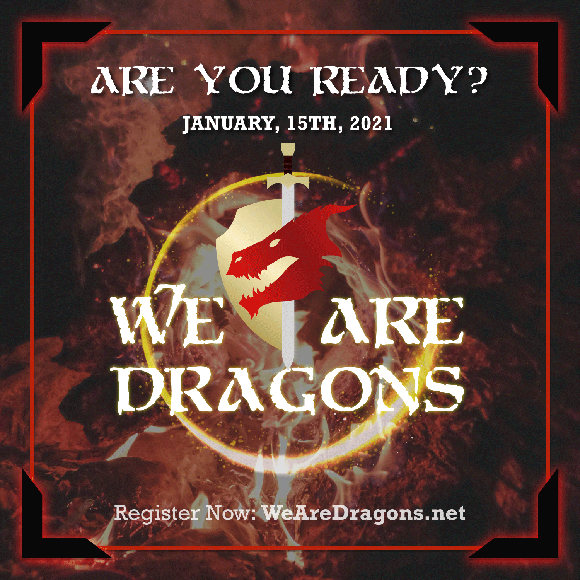 07 Jan 2021